Sister Heart
Call Number: FIN MOR
ISBN: 9781925163131
Publication Date: 2016-04-01
Taken far from everyone and everything she knows and loves, Annie must make a new life in a strange world. A sister-friend brings fresh hope, but can it last ?

**Shortlisted for numerous awards in 2016**
Swallow the Air
Call Number: FIN WIN
ISBN: 9780702235214
Publication Date: 2016-01-01
When May's mother dies suddenly, she and her brother Billy are taken in by Aunty. However, their loss leaves them both searching for their place in a world that doesn't want them.
Good Morning Mr Sarra
Call Number: NF 371.829 SAR
ISBN: 9870702238888
Publication Date: 2012
When Chris Sarra arrived as the first Aboriginal principal of Cherbourg State School in 1998, it was a time of high hopes but low expectations in Indigenous education. Over the next six years, he transformed the school into a national success story, but not without controversy along the way.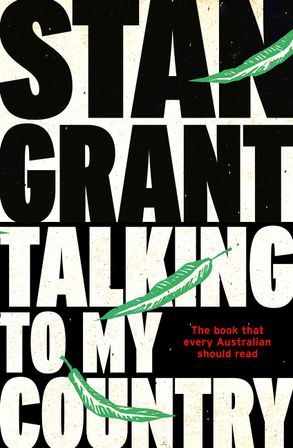 Talking to My Country
Call Number: NF 305.899 GRA
ISBN: 9871460751978
Publication Date: 2016
A very personal meditation on race, identity and history by journalist Stan Grant.
From Bennelong's 1796 letter to contemporary writers, Anita heiss and Peter Minter have selected work that represents the range and depth of Aboriginal writing in english. The anthology includes journalism, petitions and political letters as well as Aboriginal poetry, prose and drama from the mid twentieth century onwards.
Macquarie PEN anthology of Aboriginal Literature
Call Number: A820.8MAC
ISBN: 9781741754384
Publication Date: 2008
A great place to start...
Anita's Black Book Challenge
Anita Heiss:
"Most of us have heard of the BBC's Book Challenge listing 100 books.
Somewhere (probably on Facebook) it was claimed that most people had only read 6 of the 100.When I first read the list I wondered what an Indigenous list might look like, and how many books most Australians would have read in terms of home grown Indigenous literature.
I've been meaning to do this for a long time, and with prompting by others, I have finally put together a list of my favourite Indigenous authored books across genres: fiction, non-fiction, poetry, children's, published plays and anthologies. This list is by no means definitive, with over 5000 published Aboriginal and Torres Strait Islanders in Australia (seeBlack Words), my list is endless, but scanning my bookshelf quickly, these are easily some of my 'must reads' that I recommend to you.
Many of the authors I have listed below have many published works across genres, but I limited myself to one book per author. Please google the authors to see what other significant titles you might engage with.
As you'll see, I've only listed 99 titles, and I've left 100 for YOU to fill in. I want to know what book you would add to my list… and so my blog visitors can have another title to get hold of and enjoy"
Anita's Black Book Challenge list
For more great suggestions,see Anita's Black Book Challenge #2 !
Or, from one of her latest blog posts, 20 reasons you should read Blak
SBS: Many worlds of Australian Indigenous Children's literature
Children's stories by Aboriginal and Torres Strait Islander writers and illustrators are funny, sad, thoughtful, silly, profound, and joyous. As an Aboriginal author and illustrator, people so often ask me where they can find out more about Indigenous people, and my answer is always the same: read the stories we tell about ourselves.
Enter into our worlds on our terms, and listen to our voices speaking of our realities.
The tales below represent multiple points of entry into the many worlds of Indigenous Australia, and they are only a small fraction of the children's narratives that exist. This list is not an end point, but simply places to begin an exploration of the great diversity of Indigenous Australia.
~ Ambelin Kwaymullina ~
'We Need Diverse Books Because': An Indigenous perspective on diversity in young adult and children's literature in Australia
In a special extended feature, Indigenous author and illustrator Ambelin Kwaymullina unpacks key ideas from the US-based We Need Diverse Books campaign for diversity in literature, and lays out an argument for how and why Australian publishers, readers and writers should address the issue – and make our literature a better and fairer reflection of our society, especially for young Australians.
You can read the article here, and its companion piece here !
Update ! Read Ambelin's guest post "Thoughts on Being an Ally of Indigenous Writers" here ! ( Nov, 2016 )
Author Profile: Ambelin Kwaymullina
Ambelin Kwaymullina is an Aboriginal writer and illustrator from the Palyku people. The homeland of her people is located in the dry, vivid beauty of the Pilbara region of Western Australia. Ambelin has written and illustrated a number of award winning picture books as well as writing a dystopian series – 'the Tribe' – for Young Adults. When not writing or illustrating, Ambelin teaches law and spends time with her family and her dogs.
Read more about Ambelin here!
Legacy
Call Number: FIN BER
ISBN: 9780702237331
Publication Date: 2009
Simone Harlowe is young and clever, an Aboriginal lawyer straddling two lives and two cultures while studying at Harvard. Her family life back in Sydney is defined by her complex relationship with her father tony, a prominent Aboriginal rights activist.
The Swan book
Call Number: FIN WRI
ISBN: 9781922146830
Publication Date: 2013
The Swan Book is set in the future, with Aboriginals still living under the Intervention in the north, in an environment fundamentally altered by climate change.
@blakandbright
@AnitaHeiss
@IndigenousLF