There are two titles available in Closed Reserve :
Simply Excel 2010
Call Number: CR 005.54 MCF
ISBN: 9780470711316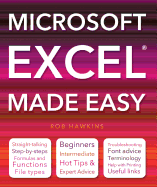 Microsoft Excel made easy
Call Number: CR 005.54 haw
ISBN: 9781847869845
Publication Date: 2011
Here are a sample of websites and You Tube channels you may find useful
when learning new skills in Microsoft Excel 2010:
How to use SUM and auto SUM functions in Excel
Whenever you have to work with tons of numbers and make various calculations, use the sum function in Excel to make your task easy. You can also apply autosum in excel to make calculations for you.
Excel 2010 - Basics & Formatting
The absolute basics you need to know about Excel 2010 (Basic facts and formatting).
Excel 2010: Simple formulas
Excel can be used to calculate numerical information. In this lesson you will learn how to create simple formulas in Excel to add, subtract, multiply, and divide values in a workbook. Also, you will learn the various ways you can use cell references to make working with formulas easier and more efficient.
Calculating percentages in Excel 2010